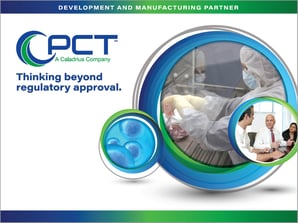 PCT leaders will offer their perspective on cell therapy manufacturing of the future at this month's Phacilitate Cell and Gene Therapy World conference. Through presentations and an interactive panel discussion, PCT will outline the framework that enables successful product commercialization over the long-term.
Offering an approach to cell therapy manufacturing grounded in Development by Design principles, speakers will discuss how the requirements of quality, cost of goods, scalability, and sustainability are utilized to form development and manufacturing plans.
The conference will be held at the Grand Hyatt in Washington, DC from January 25-27. PCT executives and members of the scientific and engineering teams will be available to meet and representatives will be at booth #214 for the duration of the event.
The schedule of PCT presentations follows:
Patient-specific cell therapy factory of the future – can you get there from here?
Brian Hampson, Vice President, Global Manufacturing Sciences and Technology, PCT
Tuesdday, January 26 12:25
What does commercialization look like?
Brian Hampson, Vice President, Global Manufacturing Sciences and Technology, PCT
Tuesday, January 26 6:00pm
Getting Commercial: Engineering the Future
Dr. Robert Preti, President, PCT
Brian Hampson, Vice President, Global Manufacturing Sciences and Technology, PCT
Dr. Ian Gaudet, Director, Innovation & Engineering, PCT
Tuesday, January 26 4:00pm


Stay up to date
on the latest news